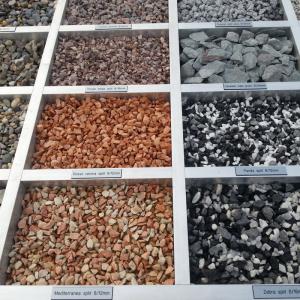 Steinfach is the leading brand for gravel, chippings and other decorative aggregates for the garden and landscaping market. Steinfach can therefore supply you with all your gravel, chippings and quarry stone requirements! The range is very wide, there is an extensive range of options and delivery times are short. Moreover, as a dealer you can have access to a comprehensive set of sales tools, such as promotional material, technical data sheets, and of course the gravel display table, which you can use to display Steinfach products on your premises!
Wide choice

Steinfach has a very wide range of gravel and crushed stone products available. These include both classic and innovative products!

Rapid delivery

Speed and efficiency in the transportation and delivery of our products is our speciality, whether it's a Bigbag or a fully-loaded lorry

Expertise

Steinfach has extensive professional knowledge and many years of experience with stone. So we know what we are talking about, and can offer you assistance
Knowledge and experience
Steinfach has an extensive knowledge of the product range and many years of experience. So we know what we are talking about, and can offer assistance if you have any questions about the products or their application, or if you have any special requests where you could do with a bit of expert knowledge. So please don't hesitate to contact us now without obligation.
Are you a private consumer?
Steinfach products are available at a large number of specialist stores. Ask your local supplier about the delivery options!